In adopting the rallying call Beyond Boundaries®, the UMW Group aims to amplify its leading position at home, while growing its presence in the global arena.
Beyond Boundaries® is about eliminating all barriers – be it geographical borders or the boundaries of our minds – to achieve greater heights in all that we do. Going Beyond Boundaries® is a part of our corporate DNA, as throughout our almost century-long history, we have always sought to expand beyond the perceived limits of our business.
The UMW Group's journey Beyond Boundaries is guided by our 4 Core Values: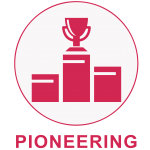 Our enduring commitment to integrity and trust.
Our contagious energy and appreciation of fresh thinking.
Our unwavering resolve and commitment in everything we do.
Our Visionary approach to developing and shaping our industries.